We've talked a lot in this space about how seriously we, CoopCoffees and roaster members, take our producer relationships. We strive to create opportunities for learning exchange and project work that supports our partners as they confront the devastating impacts of climate change in their respective countries.
But CoopCoffees roasters also have a deep commitment to best practices for sustainability at
home. Our member roasters are actively developing their own, respective, repertoire of community links and projects that contribute towards sustainability goals within their businesses, and towards educating and engaging their clients and consumers within their communities. Specific initiatives can range from protecting natural resources, providing "human-powered" transportation, in-house recycling or composting… or developing completely renewable energy solutions to power their operations.
Collectively, this represents an impressive roster of innovation – adding enormously to CoopCoffees capacity to push for best practices in Fair Trade, as well as environmental and economic sustainability. These roaster efforts have had a significant influence on our collective personality and certainly contributed towards CoopCoffees' recognition by the Specialty Coffee Association as runner to their 2017 "Most Sustainable Business Model" award, second only to our good friends and allies at Progreso Foundation in the Netherlands.
Below is a sampling of CoopCoffees roaster/member environmental achievements:
In Louisville, KY — Heine Brothers' Coffee, founding member of Cooperative Coffees, has a long-standing commitment with environmental projects, currently working with the Forecastle Foundation, the Kentucky Natural Lands Trust, and The Nature Conservancy. What began as a supporting role during an annual, Forecastle Festival Fund-raiser to help finance relief to environmental hot-spots around the world has grown to include a year-round commitment to projects protecting bio-diversity in Kentucky's own Pine Mountain Range.
Heine Brothers' special blend "Kentucky Dream" is sold at a $2.50/lb premium, and then matched by Heine Brothers' with an additional $2.50/lb for a whopping $5/lb going to protect the broad range of wildlife at Green River in Central Kentucky and to preserve the biodiversity treasure-trove at Pine Mountain in Eastern Kentucky. Previous projects included fighting mountain-top removal with Kentuckians for the Commonwealth.
"One of the reasons I came to work for Heine Bros is because of this demonstrated commitment to give back to the community," said HB Marketing and Technology Manager Chuck Slaughter, "You go to any local event and you'll see Heine Brothers contributing — offering coffee, supporting with silent auction, fundraisers, or what have you… And our involvement is not just Louisville centric; we're a company that cares deeply about the environmental well-being of Kentucky and beyond."
Peace Coffee, another founding member of Cooperative Coffees, located in Minneapolis, MN,is renowned for its sustainability initiatives. Most visible, of course, is Peace Coffee's "Pedal Power" delivery — offering fossil-fuel-free, coffee delivery within the Twin City limits since 1998.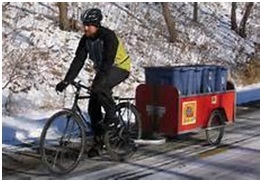 "Our commitment to bike delivery started in the early days of our business," explains Drew Ditlefsen, Leading Peace Coffee Bike Deliverer. "Before we could afford a delivery vehicle, it was simply more fun to hop on a bike with some beans than to toss them into the back seat of a car. We continue to keep the fun in what we do every day, but our bike delivery program has evolved from an idealistic folly into a serious program: two full-time bikers hit the streets every day to ride the equivalent of half way 'round the world in the course of a year and deliver a whopping 40 percent of the coffee we sell… or in other words, each hauling some 1,000 pounds daily!"
Roaster member, Kickapoo Coffee in Viroqua, WI has invested in a 25kW, 80-panel solar array, substituting their entire conventional electrical consumption with renewable energy to minimize their carbon footprint.
"From a business perspective it's kind of a no-brainer," said Kickapoo partner TJ Semanchin. "We expect to recover this initial investment within seven to eight years, with solar energy offsetting our entire electrical consumption." In addition to just smart business, this investment also aligns Kickapoo with core values of their
company and the cooperative related to environmental and social sustainability.
"We can't ignore these global issues of climate change," Semanchin said. "But we can demonstrate through our actions clear and clean examples of reducing our carbon footprint — in this case, knowing that our electrical consumption is not contributing to the problem."
Economic Sustainability — A Financial Statement
Since importing our first container-loads of green coffee in 2000, Cooperative Coffees has experienced steady and healthy growth. And unlike many start-up enterprises, we've been profitable since day one. Our purchasing model – has us "pre-selling" green coffee contracted to our roaster members, making this a very low-risk venture for the coop itself. Since our inception to the end of the 2017 contracting season, we will have purchased nearly 100 million pounds of high quality and organic, green coffees at premium fair trade pricing directly from our small-scale farmer cooperative partners.
An important advantage of our cooperatively structured business model – is that each member has a moral and an economic investment in the company. This has proven itself foundational to our economic resiliency. For example, when markets get volatile, or when business calamity strikes – such as our 2005 crisis, when Hurricane Katrina destroyed our entire inventory held in New Orleans! But since our roasters are actually owners, they have a vested interest in finding solutions instead of simply cutting loose to look for alternative sources of green coffee.
"Witnessing first-hand the labor-intensive tasks involved with growing and processing coffee, we
have definitely gained a deeper connection with the farmers and the business of importing coffee," says Larry Larson, roaster/owner of Larry's Coffee and founding members of Cooperative Coffees. "Knowledge gives us the wherewithal to go the extra mile; and as our Fair Trade markets grow, so do these farmers' hopes for their children's future! It's a pleasure to be in business together…"
Author: Monika Firl
April 6, 2017
Tags:
alternative energy
,
coffee roaster
,
sustainability